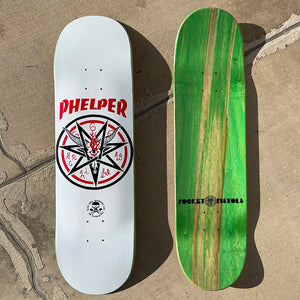 PPS 8.5 Jake Phelps Hell Ride Crew
What can you say about Phelper, love him or hate him, he's 100% skateboarder and down for life! Editor and chief of Thrasher Skateboard Magazine, guitarist in Bad Shit, Host of Thrasher Radio and one of the craziest photographic memories of skateboarding history. Proceeds go to DIY parks around the world.
R.I.P. Jake Phelps
Deck Specs:

Deck Specs:
Width: 8.5"
Length: 32.5"
Wheelbase: 14.5"
Nose: 7.25"
Tail: 6.75"


Additional Info:

Screen Printed by Hand
Jake Phelps Model
7Ply

Hard Rock Durolite Great Lakes Maple

Classic 8.5 Shape

Get it and shred it!