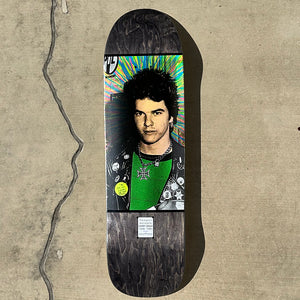 PPS 8.625 Darby Limited #4
Dedicated to one of the most infamous front man from the early days of the LA Punk scene. Creator of the Germs burn and influencer of many bands who followed after he was gone.
Deck Specs:
Width: 8.625"
Length: 31.5"
Wheelbase: 13.75"
Nose: 7"
Tail: 6.625" 

Additional Info:
Screen Printed by Hand
One Off Chicken Scratch
Signed and Numbered
Dedicated Series 
7Ply Hard Rock Durolite Great Lakes Maple
Icon 8.625 Shape

Get it and shred it!