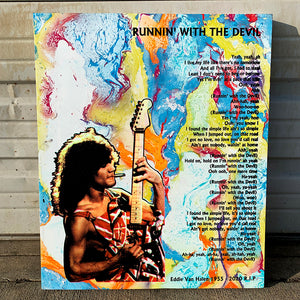 Artwork EVH 1 of a Kind Canvas 24" X 20"
EVH Canvas Art Piece 24" X 20"
Only 1 available. Painted and crafted by Chicken, this is a one of a kind art piece. Dedicated to a true original and one of the greatest to ever play 6 strings with 10 fingers. EVH and the first Van Halen album were a skatepark standard played loud over the park speakers throughout California in 1978. EVH was DIY all the way, creating his own sound with a guitar he cobbled together and named the Frankenstrat. R.I.P. EVH.
Size: 24" x 20"  
100% Made and Screen Printed by hand in Southern California